{ding dong}
You open the door.
Here's what you see:
Immediately followed by the sound of my little Bucket Head singing:
"Trick-or-Treat! Smell my feet! Give me something good to eat!"
Always a crowd pleaser.
But did you know there is a second verse to this classic holiday greeting?
There is.
It goes like this:
"If you don't, I don't care. I'll pull down your underwear!"
WTF?
Who on earth taught that to my sweet, innocent, cherub-faced four year old son?
Uh, that would be me.
Sorry, neighbors.
In hindsight, bad idea. Apparently, pulling down other people's underwear without their consent isn't very socially acceptable nowadays.
But when I was a kid? Shoot. We called that "getting de-pantsed." It was a classic bully maneuver. Naturally, I rocked at it. Just ask my little brother.
Something else you may have heard if you trick-or-treated on my street was Bucket Head shouting "I AM NOT A SHART."
Bless his little speech impaired heart.
What he meant was "I am not a SHARK."
And I totally feel his pain. Really I do.
What the fuck is wrong with grown-ups today?
People, if you don't know the difference between an orca whale and a shark, you need to spend less time chatting up little trick-or-treaters and more time watching Animal Planet.
I can't even tell you how many adults told my Bucket Head, "My, what a scary shark you are!" To which he would always reply that he was not a shark, but an orca whale (duh). As the evening progressed, he became more and more frustrated with having to correct so many people.
And listen, the only thing worse than trying to correct an imbecilic adult who doesn't know their sea creatures is then being laughed at for your mispronunciation by said imbecile. Thanks a lot, neighbors.
But my biggest WTF Halloween moment occurred when one of my kids received this in their treat bag:
Say it with me, friends:
What…
The…
F!
I know what some of you are thinking. It's kinda brilliant.
Wrong.
That's jive. (Says the lady who hands out gently used Happy Meal Toys.)
Even though I'm a huge advocate of being green and frugal, giving out personalized Valentine candy treats on Halloween is just plain shitty. That's like giving out soy sauce packets and used dryer sheets. Don't be a douche. These kids are working hard to walk all the way to your door and sing the "smell my feet" song. Eight month old off-holiday candy is a TRICK, not a treat. Save it for the un-costumed teenagers who show up after your porch light is off, not the cute little SHART who still says "gank you."
And now, to answer all those lingering questions.
Did our house get egged?
No! In fact, I observed The Gatekeeper greet the first few trick-or-treaters and whenever he asked them "Would you like candy or a toy?" they always said "A TOY!!!" So there, doubters. Kids love plastic crap. Told you!
Did I dress up?
Yes indeedy. I did. Well, kinda. A hat/wig, lipstick, tattoo sleeves, and a bracelet count, right?
Good enough. Or as my stapler-wielding Mama says, "Done is better than perfect." 
We even returned to our hippie friends' 2nd annual Halloween Party, where once again, I was the only adult in costume. No, The Gatekeeper didn't come. He did dress up though…as an Ohio State Fan. Whoop-dee-frickin'-doo. He stayed home and watched football and drank beer while I bravely battled my social-anxieties alone at a dry party. Awesome.
Who did we trick-or-treat with this year? 
We trick-or-treated with Mama Cloud and her kids again and it was delightful, as usual. She and I have similar parenting styles and it's so refreshing to not have to be the lone bad cop all night shrieking things like "DO YOU HAVE A DEATH WISH? THEN GET OUT OF THE MIDDLE OF THE GOD DAMN STREET, Honey." (Because tacking "Honey" onto any rant makes it not quite so negative, right?)
Did Nature Boy trick-or-treat with his friends and no adult supervision? 
Aw HAYLE NO. He just turned 12. He and his best friend came with me and Mama Cloud and our combined broods. And it was a good thing, too, because he almost peed his pants at the local haunted house…it was that scary. I ended up going through it twice because he was too afraid to come with me and his best friend the first time. Pussy. Kidding. We held hands the whole time, but it was totally dark, so his best friend couldn't see what a scaredy-cat he was. Too cute.
Was alcohol involved?
What are you, slow? Of course. I had to make up for the withdrawal I was experiencing after the hippie Halloween party.
So that's that! I hope your Halloween was a happy one too and that you got only treats and no tricks in your goodie bags! And by goodie bags, of course I mean vaginas.
I'm linking up with Sellabit Mum and Fourplusanangel for Boo in the Blogosphere and Nicole at By Word of Mouth Musings because I obviously need to make some new friends.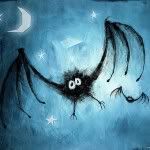 with kisses and consensual de-pantsing,
-Iris
© Copyright 2011, The Bearded Iris. All rights reserved.