I pretty much feel like I've been beaten with a sock full of nickels this week. The combo of trying to recover from the extreme highs and lows of my first BlogHer conference and then putting my baby on the school bus for his first day of Kindergarten has really just knocked the wind out of me.
At least I was wearing comfortable underwear for most of the week.
But on a positive note, my faith in the power of prayer was restored this week because I received phone calls from the TWO elementary teachers I was praying my children would get. What are the odds of that? And I would like to apologize to the one whose hearing is probably forever compromised due to me screaming HALLELUJAH and THANK YOU BABY JEEEEZUS into the phone when she broke the news to me.
Speaking of which, some of you may be wondering how Bucket Head fared on first day of school. (And thank you for thinking of us. I felt your virtual hugs, I really did.)
Well, when he jumped off the bus, the first thing he did was shout "It. Was. AWESOME!!!" Then he ran as fast as he could into my arms. (I put the camera down so I could gobble him up.)
Thank you, God.
Because honestly, if he had gotten off that bus with tears in his eyes saying how much he hated it? I would have probably scooped that boy up and cooed, "Don't worry honey, you never have to go back. We'll just homeschool you until you go to college, m'kay Pookums?"
But then I'd never get to hear his teacher call me to report that he is "just the cutest thing" and "so sweet" and that "he made friends and was helpful and courteous" and all those other things you hope to hear from a Kindergarten teacher on the first day of school.
And also that he sculpted a butt out of Play-Doh during center time.
So there's that.
At least it wasn't a life-size pair of butthangers.
Which brings me to my favorite tweet of the week. Look what Rebecca of Frugalistablog's son was served at lunch this week while they were on vacation:

Hubba hubba. Where to begin?
Seriously.
So. Distracted. Can't. Think. Straight.
Well here's hoping the coming week will bring us all more laughter than tears; and extra large portions of long, flesh colored, cylindrical processed meats. Wait. What?
I'd also like to take this opportunity to thank the kind and savvy ladies who have purchased ad space on my side bar this month. I sure do appreciate their support and hope you will show them some love by clicking on these here lovely buttons and checking them out!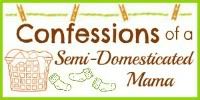 If you would like more information about advertising on The Bearded Iris, please click here. Thank you!
Yours truly,
Leslie